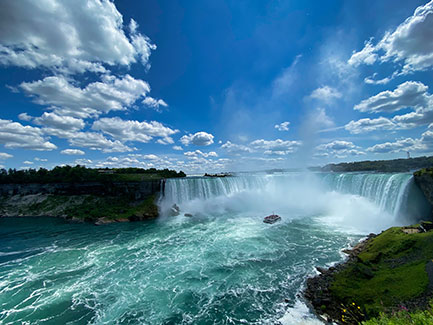 What's next on your travel list? With so many places worth travelling to, it can be hard to narrow down your top spots to visit. A recent survey ranked Niagara Falls, Canada as one of the most popular bucket-list destinations in the world, according to a new survey conducted by travel agency Planet Cruise.
The magnificent natural wonder came in fourth place, behind seeing the Northern Lights, seeing the Pyramids in Egypt, and going to Disneyland. The findings reveal the top bucket-list destinations for each generation, from baby boomers to Gen Z. The survey results show that most people want to see Niagara Falls at some point in their lives.
The falls themselves are an incredible sight to behold—it's hard to believe that anything could create such a tremendous amount of power!
Niagara Falls is a natural wonder, with three waterfalls that span the border between Canada and the United States. The Horseshoe Falls are located on the Canadian side of the border, while the American side boasts two waterfalls known as Bridal Veil Falls and American Falls.
With its beautiful natural scenery, awe-inspiring waterfall, and historical significance, there's no shortage of things to see and do in Niagara Falls. It really is no surprise that over 12 million travellers visit this beautiful destination each year.
Falling in love with the sight of Niagara Falls is easy. Whether you're into wining and dining or getting into the action at the local casino, there's so much to see and do, you'll never get bored of visiting.
It's a bucket list destination for many reasons, so check out these places for some incredible ways to see it:
Take an aerial tour of the falls by helicopter.
Go wine tasting at one of the many wineries in the area.
Go on a boat tour around the falls and learn about their history.
Check out the Niagara SkyWheel – an observation wheel that offers some amazing views of the city skyline (and waterfalls!)
Go to the Skylon Tower observation deck. This is a great way to get a bird's-eye view of how big Niagara Falls really is—plus, there are telescopes for looking down into Canada.
If you do decide you want to stay overnight, book a stay at one of the best hotels in Niagara Falls:
You'll get the most bang for your buck and have amazing views of the falls. This hotel is located right on the edge of the brink of Niagara Falls and offers many amenities, including room service, wifi, Fallsview dining, and valet parking.
This hotel offers breathtaking views of both the Canadian and American sides of Niagara Falls. It has several restaurants, including The Keg Steakhouse & Bar Fallsview and TGI Fridays. Guests can also enjoy an indoor pool, an arcade, and a fitness centre. It's located downtown, just steps from the Incline Railway and Fallsview Casino. Plus, it's one of the best places to watch the fireworks!
This hotel is located near many attractions, including Table Rock and the Boat Cruise by the Falls. It has several on-site dining options, including Ruth's Chris Steakhouse, and is connected to the Fallsview Casino.