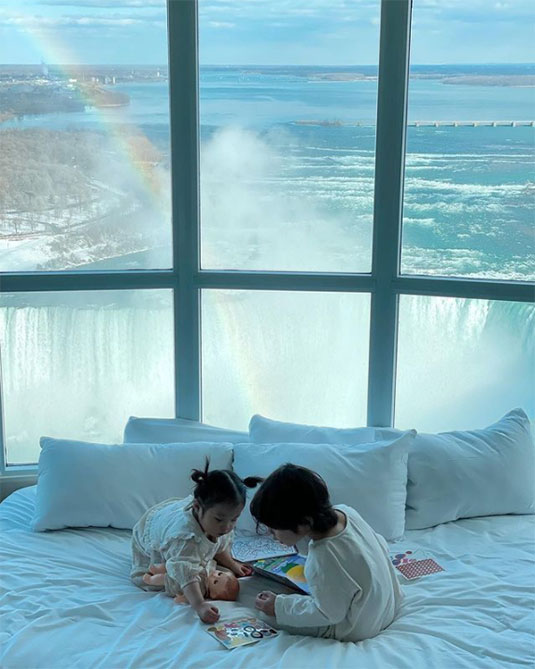 Niagara Falls has always been the ultimate family fun destination. Treat your kids to a getaway full of wonder, awe, and excitement with a trip to Niagara Falls this March Break. Plan your stay at one of Niagara's finest hotels and make a lifetime of memories with your family.
1. Niagara Falls Fun Zone – More than just an arcade!
Discover hours of family fun at the Niagara Falls Fun Zone. From Lazer Tag to Glow-in-the-Dark Mini Putt, there is literally hours of entertainment for the whole family. The Four Points by Sheraton is currently offering a special promotion including admissions for the whole family to the Niagara Falls Fun Zone. With family friendly dining options also available, you won't even have to leave the hotel to enjoy a day full of fun.
2. Greg Frewin Magic Show – An Awe-Inspiring Experience
Make your trip to Niagara Falls truly magical by planning a visit to the Greg Frewin Magic Show. The Embassy Suites by Hilton Niagara Falls Fallsview is offering a package which includes four tickets for the Las Vegas style magic show and a dining credit for The Keg Steakhouse + Bar. Enjoy a jaw-dropping magic experience, including majestic live tigers and large exotic parrots, that is sure to amaze guests of all ages.
3. Clifton Hill – The Street of Fun!
Take the family to visit Clifton Hill, the street of fun, for a variety of restaurants, haunted houses, lazer tag and mini putts. Plus, don't miss the 175ft Skywheel that will rise you up above the lights and sounds of Clifton Hill. The climate-controlled gondolas keep the whole family warm while giving you a truly unique view of Niagara Falls. Check out the Clifton Hill Package from the Wyndham Garden Niagara Falls Fallsview hotel which includes dining discounts and attraction passes.
4. Breathtaking Butterfly & Bird Aviaries
Other family favourites not to be missed are the Butterfly Conservatory; a self guided tour that invites you to follow a path of lush gardens and beautiful flowers all while bright butterflies flutter around you. Similarly, the Bird Kingdom located at the bottom of Clifton Hill is the world's largest free-flying indoor bird aviary with hundreds of species of birds, including parrots, bats, and owls.
5. Niagara Falls – The Majestic Wonder Itself
Niagara Falls is full of countless attractions, restaurants, and shops but none of them take precedence over the thundering waterfalls themselves. Show your family the awe and power of the amazing waterfalls up close. Enjoy the nightly illumination every night beginning at dusk. Witness the unique occurrence in the winter, when the lamp posts, trees, buildings, and railings are all covered in a clear coat of ice from the frozen mist of Niagara Falls. The glass-like coating adds a special magic to the atmosphere that can only be enjoyed for a few short months of the year.
No matter what experience you are looking to enjoy with your family this March Break, Niagara Falls has it. Whether a quiet vacation relaxing in your Fallsview suite is what your family needs to wind down and reconnect, or if you're searching for endless excitement and entertainment at the best attractions, Niagara Falls will not disappoint.